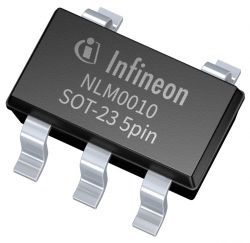 Infineon's NFC-PWM (Pulse Width Modulation) series consisting of NLM0011 and NLM0010 provides fast and cost-effective implementation of Near Field Communication (NFC) programming for LED drivers. Contactless exchange via NFC replaces the labor-intensive plug-in resistor current setting method, thus improving operational efficiency and maximizing flexibility in the value chain. The technology reduces LED driver variants, simplifies the selection of LED modules and allows configuration at the end of the manufacturing process. The NFC-PWM series is available at http://www.rutronik24.com.
Thanks to the NFC-PWM series being compatible with common analog driver ICs no firmware development is needed. It can be easily integrated into existing designs. The NLM0011 operates in two modes: configuration mode (passive) and lighting mode (active).  In passive mode, the PWM-related parameters can be wirelessly configured via the NFC interface without powering the LED driver. In active mode, when VCC power is applied, the PWM output is generated according to the stored parameters. The external R/C filter converts the PWM signal to the desired DC voltage to control the current output of the LED driver.
A special feature of the NLM0011 is the integrated CLO function (Constant Lumen Output), a self-regulating system to adjust the LED current to the aging characteristics of LEDs. The integrated operation-time counter (OTC) records the accumulated operation time while the LED degradation curve – stored in the CLO table – helps to automatically adjust the PWM signal's duty cycle to compensate for the LED's natural degradation. The NLM0010 is a light version without CLO function. Both versions include a non-volatile memory with Unique Identification Data (UID) and 20 bytes of free user data storage.
In addition to LED power supply current configuration, the two new dual-mode NFC wireless configuration ICs are also suitable for applications which use a PWM or a DC voltage as control signal.
https://www.rutronik24.com/search-result/nojs:1337/qs:NLM001/reset:0