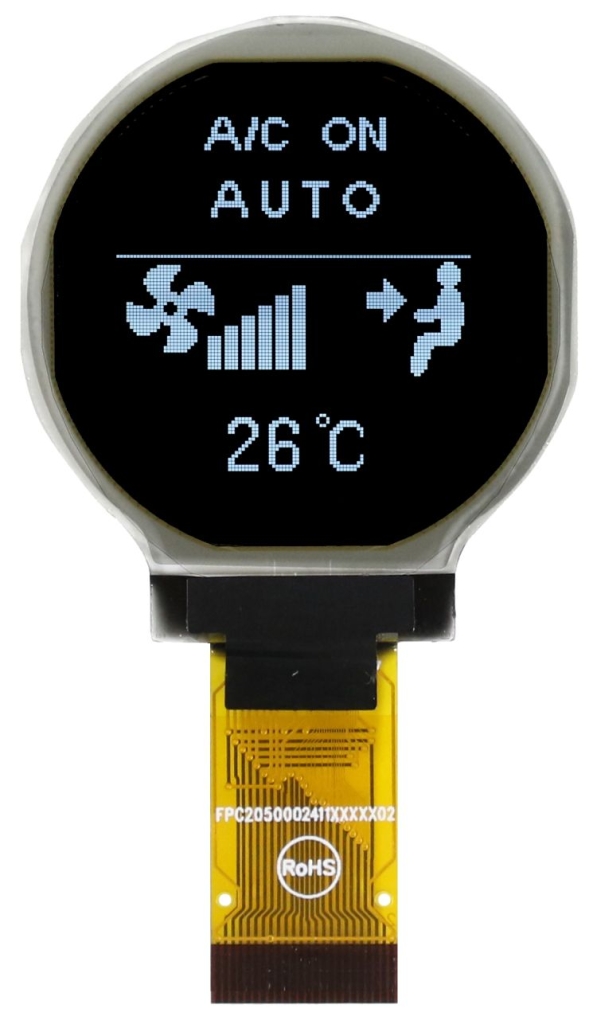 With the REX128128B, Raystar Optronics offers a 128×128-pixel CoG Circular OLED display as an interesting alternative to TFT or LCD, among others. The round 1.18" POLED is particularly thin at 2.05 mm and impresses with excellent viewing angle properties and a contrast ratio of 10,000:1. With a visible area of 31 mm diagonally, low weight typical of OLEDs and low power consumption, it is particularly suitable for integration in wearable devices, such as portable measuring devices, home applications and audio devices. The Raystar Optronics OLED is available at http://www.rutronik24.com.
The dimensions of the module are 37.18×41.23mm. The active area of 30.00×30.00mm covers almost the entire visible area. The REX128128B is a chip-on-glass OLED display with the SSD1327 IC, a single-chip CMOS OLED/PLED driver with controller specifically for organic and polymer light-emitting diode dot matrix graphics display systems. Data are displayed directly from the internal 128x128x4-bit GDDRAM. They are sent from the MCU via various available interfaces, such as the I2C, the 6800/8080-compatible parallel interface or the serial peripheral interface.
The OLED display is available with the emitting colors white, yellow and sky blue and supports greyscales. The module's functionality is unrestricted at operating temperatures between -40°C to +80°C.
For more information about Raystar`s circular OLED display and a direct ordering option, please visit our e-commerce platform at http://www.rutronik24.com.
https://www.rutronik24.com/search-result/qs:REX128128B/reset:0