18. oktober 2021
Share and Win Digilent Analog Discovery 2!
Digilent and DesignSpark Grass Root are offering students and engineers the chance to win a set of Analog Discovery 2, with Audio Adapter and Transistor Tester! If you are successfully chosen to receive one of the sets, we would like you to share your experience with the community.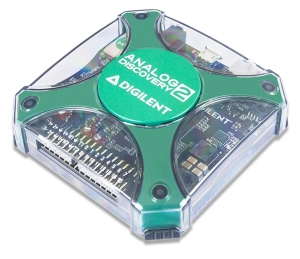 Analog Discovery 2 is a USB oscilloscope, logic analyzer, and multi-function instrument that allows users to measure, visualize, generate, record, and control mixed-signal circuits of all kinds. It is small enough to fit in your pocket, but powerful enough to replace a stack of lab equipment, providing engineering professionals, students, and electronic enthusiasts the freedom to work with analog and digital circuits in virtually any environment, in or out of the lab.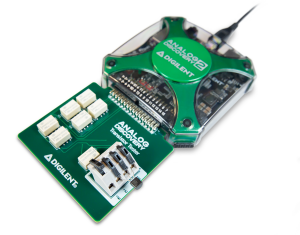 The Transistor Tester can be plugged into the Analog Discovery and enable the use of this instrument without any need for reference circuit set-ups, similar to a traditional curve tracer instrument. The adapter is loaded with a 2×15 female connector which can be plugged directly into the Analog Discovery. Components or leads can be attached via the terminal block on the Transistor Tester. The curve tracer instrument in WaveForms allows the Analog Discovery to draw characteristic curves of common devices like diodes, NPN and PNP transistors, and both P- and N-type FETs.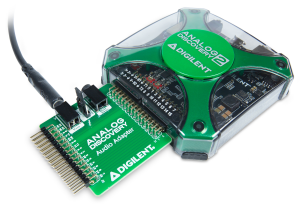 The Audio Adapter provides an easy method of connection to analyze audio signals with the Analog Discovery oscilloscope instrument. It is equipped with one Mono and one Mono/Stereo Jack connector connected to the inputs of the oscilloscope and a 2×15 MTE connector to pass through all other signals.
Sign up the giveaway event at DesignSpark