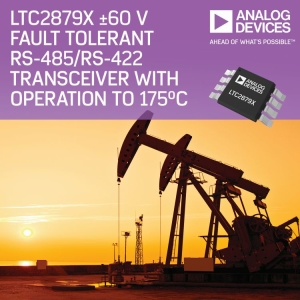 Analog Devices, Inc. has introduced the LTC2879X extreme temperature 175°C ±60V fault tolerant RS485/RS422 transceiver. The device is engineered to operate in demanding temperature ranges and is 100% tested to specifications at 175°C. Features such as enhanced overvoltage fault protection and extreme electrical overstress (EOS) protection ensure reliable data communications against the most common threats in electrically noisy environments. The LTC2879X's tiny 3mm x 3mm footprint is 50% smaller than comparable devices, which helps lower PCB costs and develop condensed design formats.
The extreme temperature range, rugged fault tolerance, and low-drift, low-leakage circuitry of the LTC2879X device make it well suited for use in oil and gas exploration, industrial control, and aerospace and defense applications.
Summary of Features: LTC2879X
–55°C to 175°C Guaranteed Operation
±60V Overvoltage Protection & ±25V Common Mode Range
±52kV ESD Interface Pins, ±15kV All Other Pins
±2kV (Level 4) IEC61000-4-4 Fast Transient Burst
5x Receiver Hysteresis (240mV) Compared to Standard RS485 Transceivers
3V to 5.5V Supply Voltage
TIA/EIA-485-A & PROFIBUS IEC 61158-2 Compliant
For more information, visit www.analog.com/LTC2879X.