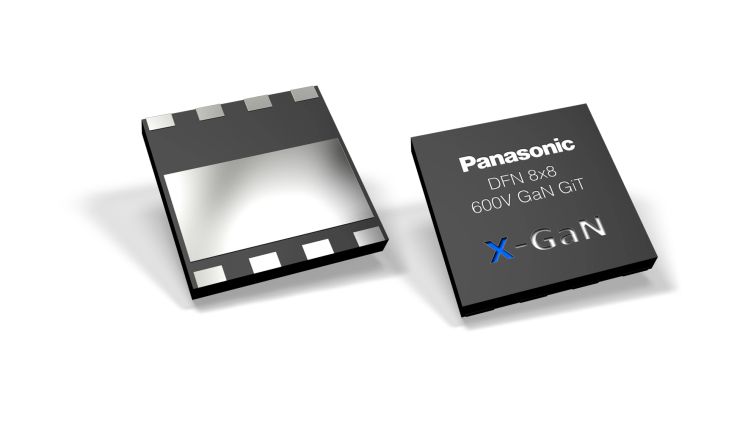 Panasonic Industry Europe (PIEU), the European supplier for industrial components and solutions is showcasing its latest technology portfolio at PCIM, the power electronics exhibition and conference on Booth 345, Hall 6, Nuremberg Messe 05 – 07 June, PIEU's innovative products and solutions provide increased efficiency and reliability for a wide range of applications.
Portfolio overview:
X-GaN transistors, evaluation boards & reference designs
SiC MOSFETs with integrated diode DioMOS
SiC & GaN based solutions for automotive and industrial applications
Advanced R&D prototypes: bi-directional GaN and drive-by-microwave gate drivers
Soft-PGS graphite sheets as thermal interface material
NASBIS the thinnest insulation solution available
High reliability passive component solutions for better circuit design
GaN transistors and solutions
Panasonic's line up of 600V GaN transistors X-GaN enables an increase of the power density and the improvement of the efficiency of power conversion systems. The X-GaN devices successfully overcome key technical challenges typically faced by GaN power devices: X-GaNs are normally-off, current collapse free, use an ohmic gate contact preventing gate breakdown, all factors dramatically improving the reliability and robustness in application. Panasonic will showcase industrial subsystems that can take full advantage of X-GaN's high performance such as a X-GaN compact inverter and a DCDC converter, as well as a range of application demonstrators and evaluation kits.
SiC MOSFET DioMOS solutions
At PCIM, Panasonic is showcasing its SiC MOSFET solutions. It's DioMOS (Diode-integrated SiC MOSFET) structure enables SiC modules to be reduced in size, by integrating a high performance unipolar reverse diode in the channel of the MOFSET. SiC power devices can realize low-loss operation that surpasses silicon power devices and play a key role in saving energy in high current, high voltage applications. At PCIM 2018 Panasonic will showcase prototypes of power modules with built-in SiC-DioMOS.
Advanced electro-materials for power devices for encapsulation and mounting
Panasonic advanced electro-materials contribute to improving the reliability and reducing the size of power electronics and automotive parts. Encapsulation materials for SiC or GaN power devices exhibit excellent heat resistance and can suppress cracks and delamination of resin-encapsulated parts thanks to a high glass transition temperature and high thermal stability. Reinforcement materials used to improve mounting reliability, especially in automotive applications.
Soft-PGS – 28 W/mK Thermal Interface Material
Panasonic's Soft-PGS is the next step for the Pyrolytic Highly Oriented Graphite Sheet (PGS) portfolio, which is one of the thinnest thermal solutions in the world. Its industry-leading thermal conductivity of 1950 W/m K is five times higher than common materials like copper. Soft-PGS has been developed as a thermal interface material (TIM) and boasts a high thermal conductivity of 28 W/m K, compressibility of 40%, easy handling and high reliability over its whole product life. Soft-PGS graphite sheet consists of a 2D carbon matrix only 200 µm thick, which effectively disperses and transfers heat along X,Y and Z axes, protecting sensitive electronics like server units, IGBT modules or common inventors from damage.
NASBIS – Thinnest Insulator Sheet
NASBIS (Nano Silica Balloon Insulation Sheet) is the thinnest insulation solution currently available on the market. The NASBIS high-performance thermal insulation sheet comes with a thickness of 50μm, 100 μm, 500 μm, or 1000 μm and an ultra-low thermal conductivity of 0.018 to 0.024 W/mK. This very low thermal conductivity is achieved thanks to a pore diameter which is smaller than mean free path of air (68nm). In battery packs NASBIS can contribute safety-design with its insulation properties. It reduces the possibility of a rise in temperature in the adjacent cell. Additionally, NASBIS contributes in downsizing and weight saving compared to other insulation material.
High Reliability Passive Component Solutions
Further passive components on display from Panasonic include a wide variety of the company's latest capacitor, inductors and resistors technology. Featured conductive polymer capacitors from Panasonic's broad products portfolio include SP-Cap (polymer-aluminum), POSCAP (tantalum-polymer), OS-Con (polymer-aluminum) and Hybrid (polymer-lytic), which are unique to Panasonic and enable high power applications to achieve optimum performance through their low ESR, high ripple current and long life characteristics. Panasonic Metal Composite Power Inductors also offer a unique combination of features – high current capability, high reliability and good anti-vibration characteristics – which enable design flexibility. Panasonic Shunt Resistors are the widest product portfolio in the market, featuring high power and less heat, to assist design engineers in creating optimum designs.
For further product information, please visit: http://industry.panasonic.eu