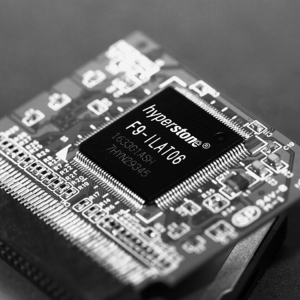 Hyperstone introduces their new F9 – CompactFlashT memory controller. The F9 is targeting industrial and high-end CompactFlash cards and embedded IDE disk-on-modules. In conjunction with Hyperstone's hyMap Flash translation layer (FTL) and hyReliabilityT firmware features, the F9 provides enhanced endurance and data retention management, as well as rigorous power fail-safe features.
Hyperstone's F9 controller delivers a sequential read speed of over 120 MB/s and can write at up to 120 MB/s, supporting up to 4,000 random 4k write IOPS. It is compatible with CF 6.1 and ATA-7 standards with speed modes up to UDMA 6, supporting next-generation SLC, MLC and 3D NAND Flashes. The F9 features Hyperstone's hyMap sub-page-based Flash translation layer (FTL), its hyReliability Flash Memory Management and firmware architecture, and Data Refresh to maximize data retention. The device also provides S.M.A.R.T. health monitoring and lifetime estimation tools, and a secure boot feature for firmware security. An Ultra-Low-Alpha package compound reduces soft errors caused by alpha particle radiation.
Only through a page-based mapping FTL can 3D, MLC, or any Flash with larger block sizes be used in a reliable manner. Users can now feel at ease in staying with their existing CF/IDE products.
The F9 will initially be available in 144-ball TFBGA (9x9x1.2 mm) and 128 pin TQFP (14x14x1.0 mm) packages, qualified for the industrial temperature range (-40 to +85 °C). Mass-production samples and released firmware are available now.
To learn more about Hyperstone, please visit www.hyperstone.com