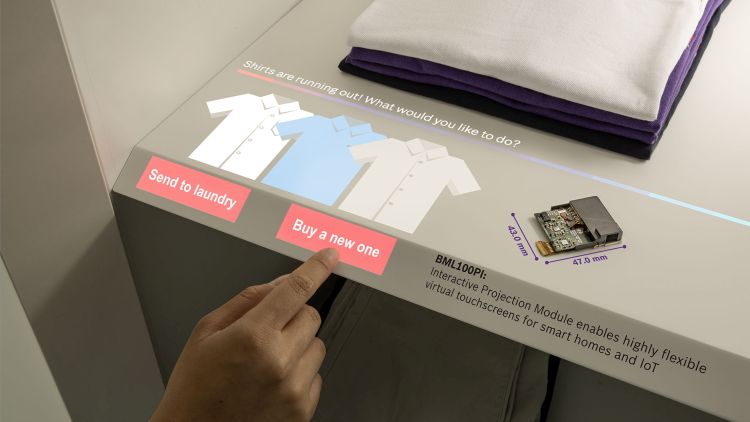 BML100PI Interactive Projection Module enables smart shelf solutions
Always-in-focus laser projection for simultaneous multi-layer touchscreens
Complete ready-to-use solution for simplest integration
Compact design: projection and interactivity combined in one small package
At CES in Las Vegas, Nevada, Bosch Sensortec announced the BML100PI, an Interactive Projection Module that enriches smart homes with a virtual touchscreen on every surface – turning ordinary shelves into personal assistants.
The BML100PI module provides a complete, ready-to-use solution for interactive projection, enabling highly flexible virtual touchscreens. A generated laser beam creates a focus-free image on any surface and then scans it line-by-line to detect any gestures or finger movements. No calibration or adjustment is required for accurate gesture and touch recognition. Bosch Sensortec's Interactive Projection Module provides a touchscreen with a highly intuitive user experience for any smart home appliances as a fully flexible alternative compared to a static, physical screen.
Home device manufacturers can use the BML100PI to create 'smart shelves' consisting of several simultaneous projections on the individual shelves for example in fridges, cupboards, kitchen cabinets or wardrobes. One module can provide touchscreen functionality on up to six different surfaces. For example, a single module can project a weather forecast, the user's individual daily schedule as well as reminders of upcoming events on to a wardrobe. This information is processed and appropriate clothing is recommended to match the weather forecast and/or planned personal activities. The created look can then be shared with friends via social media – directly on the shelf surface. If an item of clothing is missing or in the laundry bin, the smart shelf can suggest new clothing for the user to order in an online fashion store or it can schedule a date for the laundry service, which is directly synced with the user's calendar.
"With this Interactive Projection Module any regular shelf can easily be transformed into a personal assistant for the user, greatly enhancing the level of convenience in people's daily lives," said Dr. Stefan Finkbeiner, CEO of Bosch Sensortec.
The BML100PI is a compact plug-and-play solution that enables manufacturers of smart home appliances and furniture to create entirely new, exciting use cases. This creates a huge potential for product differentiation for manufacturers.