15. april 2019
Pickering Interfaces to showcase practical solutions for test engineers at SMTConnect exhibition
Pickering Interfaces to showcase practical solutions for test engineers at SMTConnect exhibition
Hall 4A, Booth 143, Nuremburg, May 7-9
April 15, 2019 – Clacton-on-Sea, UK – Pickering Interfaces, the leading supplier of modular signal switching and simulation solutions for use in electronic test and verification, will once again be exhibiting at the SMTConnect exhibition, 7-9 May, Nuremburg Messe, Hall 4A, booth 143. Highlights of the booth will include:
Model 40-559 BRIC™ Ultra-High-Density Large PXI Matrix Modules                                        This range of large PXI matrices are robust 1A/20W switching modules, with up to 4,096 crosspoints. Constructed with the Pickering Electronics' Series 120 4mm x 4mm reed relays, this new generation of 1Amp PXI matrices delivers twice the density of any competing large matrix module. Available in 2, 4, or 8-slot PXI sizes, these PXI matrices enable a complete functional ATE system to be housed in a single 3U PXI chassis and potentially allow the use of much lower cost 8 or 14 slot PXI chassis. The range comes with Pickering's Built-in Relay Self-Test (BIRST) and is also supported by their eBIRST Switching System Test Tools.
Switch Path Manager Version 6.1.2 signal routing software                                                  Pickering's SPM software simplifies signal routing through switching systems and speeds up the development of switching system software and is especially useful for large complex switching systems. It supports Pickering's 1000 + PXI switching modules and the interconnection between them. The latest version introduces an Auto-Detect Configurator which pre-communicates with the hardware and automatically updates the configuration, connector information, handling addressing, verification of the hardware's existence in SPM, naming and identification—greatly minimizing the initial SPM switching configuration task. Route Caching to improving routing performance is also included for the first time.
Cable Design Tool                                                                                                                               Getting the correct cable for test systems can be a lengthy and costly process. Pickering produces all the cables test engineers need and has a free-to-use design tool to speed the process. A demo will be running on the booth.
Also featured on the stand will be examples of Pickering's wide range of high accuracy, programmable resistor simulation modules in modular PXI and PCI formats, battery and thermocouple simulator products, plus a 4-slot LXI/USB chassis (also offered in 2 and 6 slot versions) that can accept any of their 1000+ PXI switching & simulation modules offering remote control via USB 3.0 or LXI Ethernet.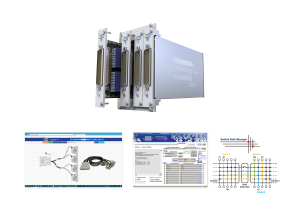 About Pickering Interfaces
Pickering Interfaces designs and manufactures modular signal switching and simulation for use in electronic test and verification. We offer the largest range of switching and simulation products in the industry for PXI, LXI, and PCI applications. To support these products, we also provide cable and connector solutions, diagnostic test tools, along with our application software and software drivers created by our in-house software team.
Pickering's products are specified in test systems installed throughout the world and have a reputation for providing excellent reliability and value. Pickering Interfaces operates globally with direct operations in the US, UK, Germany, Sweden, France, Czech Republic and China, together with additional representation in countries throughout the Americas, Europe and Asia. We currently serve all electronics industries including, automotive, aerospace & defense, energy, industrial, communications, medical and semiconductor.
For more information, visit www.pickeringtest.com.
Pickering Interfaces
+1 978-455-0376
Or agency:
Nick Foot